Biodiversity Supplementary Planning Document
Ended on the 22 March 2023
(2)

Chapter 3: Colchester context
Colchester's natural environment is extremely diverse and important. The countryside provides the attractive landscape setting that defines and characterises Colchester's villages and rural communities. The countryside and coastal areas also provide important agricultural, tourism and recreational opportunities that support local economies and communities. The Dedham Vale Area of Outstanding Natural Beauty (AONB) is partly located within Colchester, this has the highest level of protection in relation to its natural beauty and special qualities.
The maps in this chapter show Colchester's key biodiversity assets. Environmental designations can be viewed on Defra's interactive nature on the map: Magic Map Application (defra.gov.uk). All designations should be robustly protected from development by rigorous application of the mitigation hierarchy. The map on this page provides an overview of all of Colchester's environmental designations.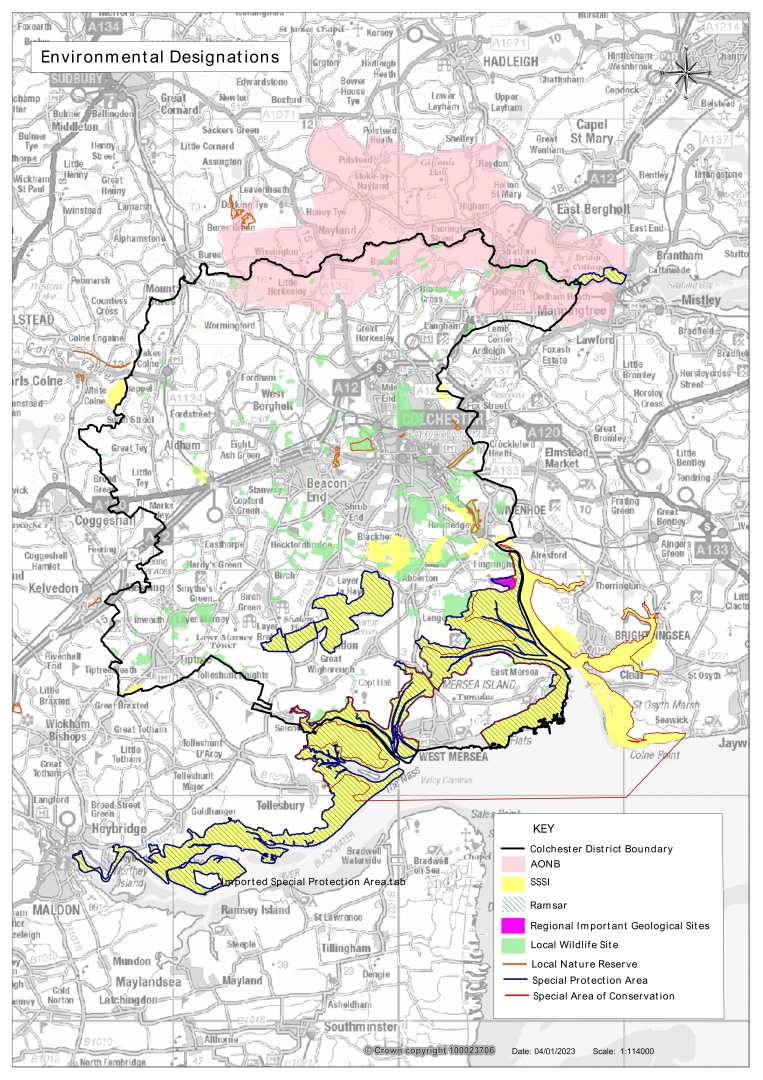 Special Protection Areas and Ramsar sites
Special Protection Areas (SPAs) are sites designated under the Birds Directive by the member states where appropriate steps are taken to protect the bird species for which the site is designated. In Colchester there is the Colne Estuary, Blackwater Estuary and Abberton Reservoir SPAs. These SPAs are also designated as Ramsar sites, which are wetlands of international importance.
Special Areas of Conservation
Special Areas of Conservation (SACs) are sites of European Community importance designated by the member states, where necessary conservation measures are applied for the maintenance or restoration, at favourable conservation status, of the habitats and/or species for which the site is designated. In Essex we have the Essex Estuaries SAC, which includes numerous SPAs, including those SPAs within Colchester. The map below shows the SPAs and Ramsar sites in Colchester and the Essex Estuaries SAC.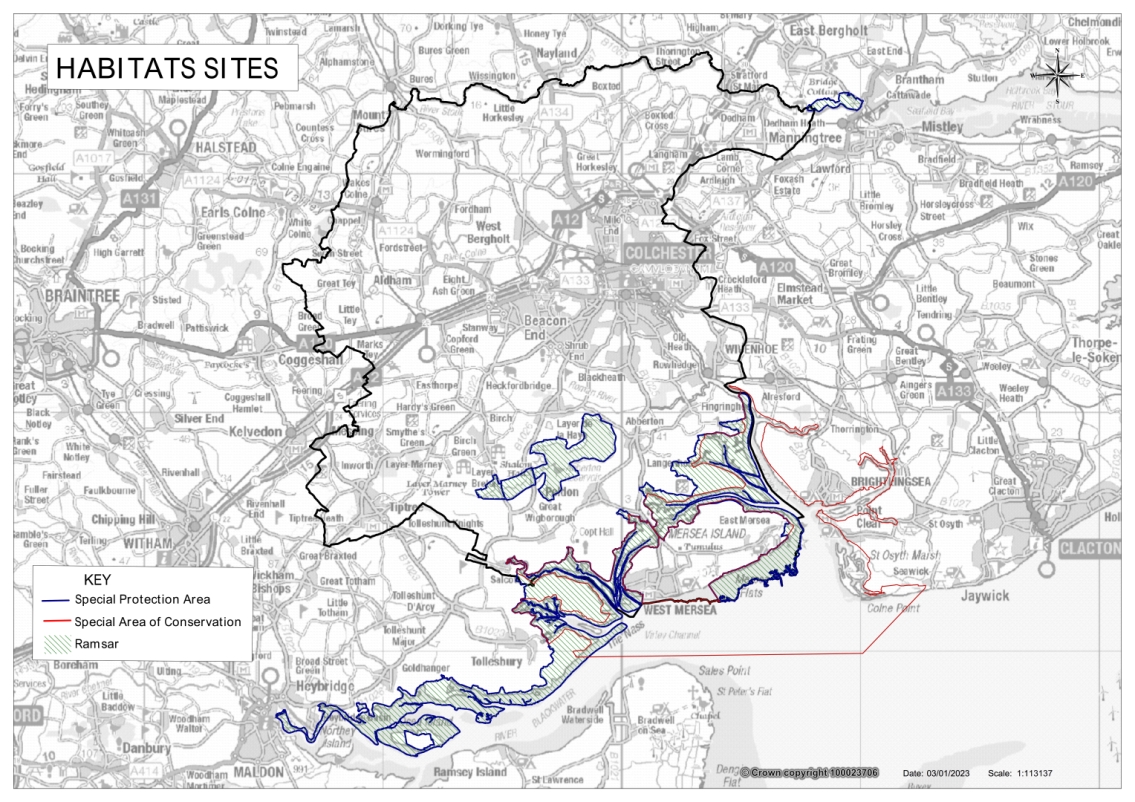 Sites of Special Scientific Interest
Sites of Special Scientific Interest (SSSI) is land notified under the Wildlife and Countryside Act 1981 as an ecosystem of flora and/or fauna considered by Natural England to be of significant national value and interest to merit its conservation and management. The map below shows SSSIs in Colchester.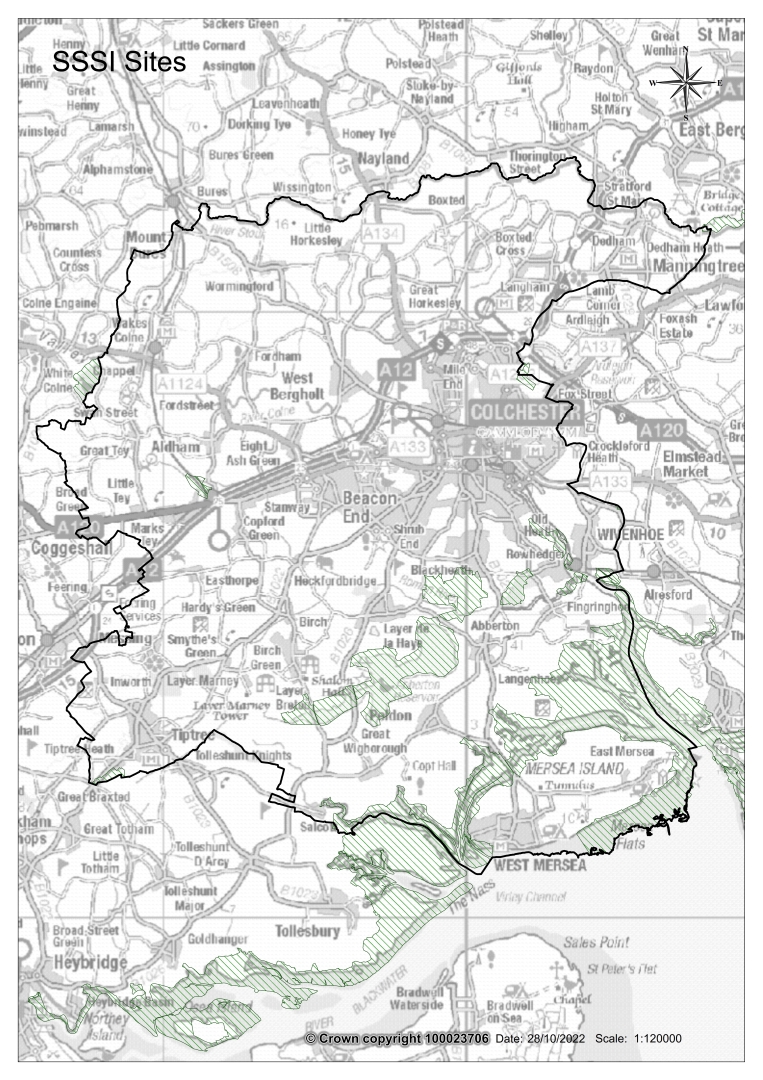 National and Local Nature Reserves
National Nature Reserves (NNRs) were established to protect some of our most important habitats, species, and geology, and to provide 'outdoor laboratories' for research. Local authorities can create local nature reserves (LNRs). LNR are important for biodiversity and nature conservation at the local level. The local authority must control the LNR land - either through ownership, a lease or an agreement with the owner. The natural features of the LNR must be cared for and it must be made accessible for visitors. The map below shows the LNRs in Colchester.
Local Wildlife Sites (LoWS)
LoWS are recognised as having nationally and regionally important habitats and species and are of fundamental importance in maintaining the current levels, and ensuring the long-term survival, of wildlife in Essex.LoWS help to buffer and connect areas of natural and semi-natural habitat, contributing to ecological networks and increasing the resilience of biodiversity to pressures of land use and climate change. LoWS represent vital core areas of habitat in the emerging Local Nature Recovery Network. The map below shows the LoWS in Colchester.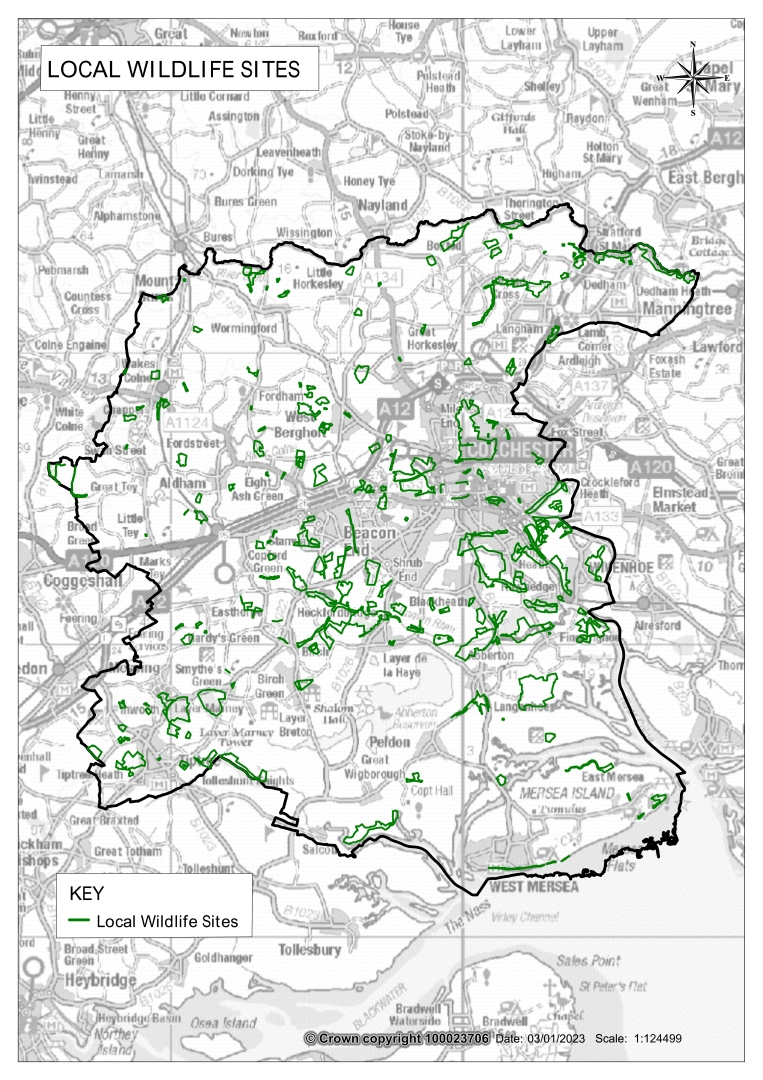 back to top
back to top