Myland & Braiswick Neighbourhood Plan Review
1. HOUSING
Objective
Our objective for housing is that growth will provide a mix of high-quality, well-designed dwellings that meet the different needs across the community.
Policies
The following policies are applied:
HOU1 – Housing in Myland and Braiswick will have a variety of choices, design and living styles that meet the needs of residents, including forms of sheltered housing for the elderly. There will be respect for the scale and character of the existing street scenes and environment by matching the predominant use of brick and tile construction such that they blend with the existing design and skyline. This includes the use of predominantly pitched roofs, sufficient off-street parking, and housing extensions that are also sympathetic to the surrounding street scene and design materials Developers should achieve the highest quality of design commensurate with current national and local design guidance. This to address the challenge of climate change and improving sustainability by, for example, electric charging points and alternative fuel sources such as air-source heat pumps that do not impact on existing neighbouring residents.Similarly, extensions to existing properties should enhance and be sympathetic to the character of surrounding properties.
HOU2 – New housing will need to respect the setting of any nearby local heritage assets, designated and otherwise, including, but not restricted to:
Grade II listed Administration Block, Severalls Hospital
Grade II listed park and gardens, Severalls Hospital
Grade II listed Braiswick Farm House, Braiswick Lane, Myland
Braiswick Farmouse, Braiswick
Church Farm House, Myland
War memorials, Nayland Road and Severalls
Myland Primary School, Mill Road
Churches, Mile End Road, Mill Road and Nayland Road

This to include excavated sites for the preservation of artifacts.
HOU3 – Sites for housing proposals in Braiswick should be comprehensively planned as set in Colchester Local Plan Policy NC3 to respect the scale and character of the existing street scenes and environment, and should protect existing public open spaces and bowling green.
Rationale and Evidence
The main housing development programmes in Myland and Braiswick are encompassed by the CBC Local Plan. Planning permission exists on identified development sites. This Plan does not therefore seek to promote further significant housing development.
MCC's 2013-14 all-households survey found that a clear majority of residents (63%) had no current intention to move. There is no indication from house sales or anecdotal comment that this has changed. It remains a reasonable conclusion therefore to identify a need for housing that meets peoples' changing circumstances whether that means expansion or down-sizing.
Indeed, this aligns with NPPF Paragraph 8 b) Social Objective which is there to "support strong, vibrant and healthy communities, by ensuring that a sufficient number and range of homes can be provided to meet the needs of present and future generations…". Further support stemmed from Colchester Local Plan, Housing Diversity, paragraph 7.48 which stated that "the number of people over 65 years is projected to increase by 60.6 % between 2012 – 2032" .
The January/February 2022 all-dwelling survey results for this Plan Review identified that residents overwhelmingly regard it as important housing design meets the challenge of climate change and environmental concerns.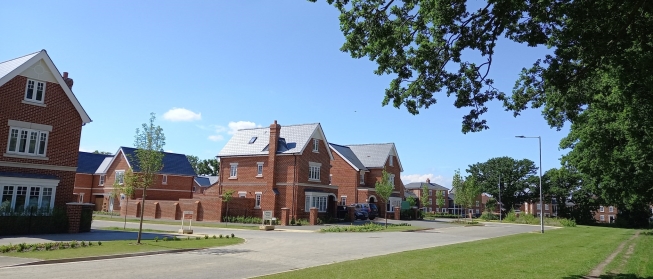 The design of developments, e.g., street scenes, variation of house styles and association of green spaces such as at Chesterwell and Kingswood Heath are being well received.
Outline planning documents for the Northern Gateway residential housing areas are also promising. Chesterwell provides some dwellings for those needing easier access and the Northern Gateway will provide up to 300 older people's homes within a Healthcare Campus and a 75-bed Care Home plus another 350 residential dwellings. This reflects the recommendation at page 21 of the MDS concerning provision of 'sheltered housing'. Kingswood Heath (Severalls) has a number of retained buildings and features. The Administration building and some other dwellings, the 'airing rooms', the park features and the Hospital War Memorial are good examples. Chesterwell development does respect Braiswick Farmhouse. Other listed examples are currently safe. Climate change features are examined in all new applications by the MCC Planning and Highways Committee.
Our policy HOU1 includes the need to "respect the scale and character of the existing street scene and environment". The possibility of small development pockets in Braiswick (see Colchester Local Plan Policy NC3) was intended by CBC to be subject to an overarching development plan for Braiswick. Part of this area has received planning permission in isolation through appeal. It is even more important therefore that the remaining part of the allocation in the Colchester Local Plan should be considered collectively. Access to and between those sites should not be subject to 'breaking through' of the existing street scene or environment. This is to ensure that any developments of the remaining part of the allocation are of a design, density and character befitting the surrounding neighbourhood and its infrastructure. The Plan policies encapsulate the recommendations made at pages 14, 15 and 17 of the Myland Design Statement (MDS) as shown at Appendix A of this Plan.
Relevant Colchester Local Plan Housing Policies and Guidance
DM10 – Housing Diversity - "The Local Planning Authority will seek to secure a range of housing types and tenures on developments across the Borough in order to create inclusive and sustainable communities. Housing developments should provide a mix of housing types to suit a range of different households…"
NC3 – North Colchester – Land at Braiswick: "…development will be supported within the area on land identified on the policies map, which must be comprehensively planned…"
back to top
back to top