Myland & Braiswick Neighbourhood Plan Review
4. ENVIRONMENT
Objective
Our objective is that sensitive development design will help meet the challenge of climate change and protect and enhance the natural and historic environment.
Policies
The importance of these policies is reflected below.
ENV1 – Development design will maximise opportunities for the creation, restoration, enhancement, expansion and connectivity of green infrastructure within and between development sites. All major developments should seek to include elements of green infrastructure and ecological networks, such as but not limited to Sustainable Drainage Systems (SuDS), allotments, street trees, green roofs, recreational areas, areas of new and existing natural habitat, green corridors through the sites and waterbodies. Specific attention should be given to:
The protection of mature trees, shrubs, historical hedgerows and important features that define the local landscape character, with such landscape and biodiversity enhancements designed into new developments.
Specified areas of green space within the Chesterwell development will be delivered and will be provisioned as wildlife areas with effective connecting green corridors, such as native species woodland in sound attenuation areas, flower meadows and balancing lakes suitable to support aquatic related wildlife. This will be in accordance with the Colchester North Green Infrastructure Strategy and Ecological Design Scheme.
The Severalls Phase 2 development will retain existing parkland features to a significant degree as shown in the masterplan and not result in harm to the character, appearance or significance of the registered park and garden.
Now that Colchester Rugby Club has been relocated a significant proportion (not less than 4.5 hectares) of the current sports field will be retained as local green space in accordance with proposals agreed with CBC as part of the Northern Gateway stake holder consultation. MCC will seek to secure this key portion of the existing Mill Road sports field as designated local green space, in line with NPPF paragraphs 98 - 102, or as a 'village green'.
MCC and BRA will urge relevant bodies to set aside unused green space adjacent to the New Braiswick School for local green space in accordance with NPPF paragraphs 98 -102
ENV2 – In partnership with CBC and other relevant parties, MCC will explore the opportunity for the Fords Lane sports field and its extension, agreed as part of the Chesterwell development, to be reconfigured to provide recreational space adjacent to the proposed community centre.
ENV3 – Drainage for new developments should be based on the principles of sustainable drainage as outlined in the Essex County Council SuDS Guide. Wherever possible this should be designed using the 'above ground' drainage features to help ensure robust treatment to improve quality of water entering into local water bodies. The system should also promote wildlife habitats and green and blue corridors running through new development.
ENV4 – Highwoods Country Park is a valuable and important asset. Planning applications must ensure the protection and enhancement of the Park's diverse biodiversity habitats.
ENV5 – The Myland and Braiswick Green Network adopted by MCC in 2021 will be protected to ensure no further loss of green space and maintain connectivity between those green spaces and where possible seek further enhancements to the Network through development opportunities. See Appendix D for supporting narrative and template map.
ENV6 – MCC and BRA will support proposals that make a positive contribution towards protecting and improving the local environment and biodiversity within the Plan area and in all of its activities, for example hedgerow retention and associated biodiversity buffer zones to act as green corridors, the planting of insect and bird attracting plants and shrubs.
Rationale and Evidence
These policies are fully compatible with and capture MDS recommendations at page 23 of that document, see Appendix A . The local environment in respect of green open space and natural features registered strongly in all community engagement exercises in regard to what residents' value most about Myland and Braiswick. In particular, High Woods Country Park is highly regarded. This has continued with the MCC 2020 Health and Well-Being Survey and the 2022 all-household Plan survey. It is widely acknowledged that the value of green space has risen significantly across the national population due to Covid 19. The Myland Design Statement already stated "…important features that define the local landscape character should be protected" and the Myland Parish Plan vision was that "development on protected or unallocated green spaces will have been kept to a minimum with the retention of existing hedges, mature trees, footpaths and bridleways. Natural green areas will be provided as a refuge for wildlife."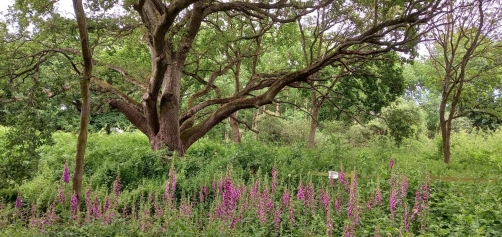 Inevitably urbanisation through the release of land has brought with it significant loss of green open space together with its integral wildlife habitats. Similarly registered park land at Severalls is severely diminished. Efforts to contain the loss of such key assets and to see the provision of adequate green space featured strongly in the original Plan survey. Over 90% of respondents agreed or strongly agreed on the need for provision of green space (97%), the protection of historic and natural features (94%) and the protection of varied local wildlife (93%).
Important documents at that time endorsed these requirements. Page 28 of Colchester's Local Plan Sustainability Appraisal Scoping Report clearly stated "All future developments will need to take account of current cultural and heritage assets as well as continuing to protect and enhance them. One key consideration will be the preservation of countryside areas and strategic green gaps between them." This was not just a local requirement. Page 2 of the document Planning for a healthy environment – good practice guide for green infrastructure and biodiversity. July 2012 more robustly claimed,
"Maintaining and restoring the natural environment will play a fundamental role in sustaining our collective future". We may say that recent international conferences on climate change reinforce that statement. MCC has now adopted a policy document on environmental issues and declared 'A Climate Emergency'. New Policy ENV6 above reflects the aims set out in that document.
As well as the loss of habitat referred to above, increased development can lead to a change in the natural drainage of a site. If not carefully managed this can lead to increased flood risk both within the area and further downstream. The inclusion of sustainable drainage systems as part of new development can help to minimise the run-off from a new site as well as improve water quality. The use of above ground drainage features such as swales, retention ponds, bio-retention areas and wetland areas help to ensure that areas of green and blue space are maintained within the development.
For the reason stated above a Myland and Braiswick Green Network has been compiled, documented and adopted by MCC. This is shown in full at Appendix D.
It contains existing and planned recreational and natural green spaces, hedgerow retention, green and other connection routes including connections to greenspaces and corridors outside the Plan Area., including identifying where the Colchester Orbital Route crosses the Plan Area, hence the new policy ENV5. It forms a template against which existing and proposed elements can be reviewed. The Network is in harmony with the NPPF Section 15 Conserving and Enhancing the Natural Environment. Paragraphs 174 (a), (b) and (d) apply as do habitat and biodiversity protection paragraph 179 (a) and (b) and paragraph 180 (a), (c) and (d) .
Mile End Recreation Ground at Fords Lane and Mill Road Recreation Ground are protected by the Fields in Trust-Queen Elizabeth II Playing Fields which champion and support our parks and green spaces by protecting them for people to enjoy in perpetuity.
Relevant Colchester Local Plan Environment Policies
Policy ENV1: Environment. "The Local Planning Authority will conserve and enhance Colchester's natural and historic environment, countryside and coastline. The Local Planning Authority will safeguard the Borough's biodiversity, geology, history and archaeology which help define the landscape character of the Borough, through the protection and enhancement of sites of international, national, regional and local importance."
Policy ENV3: Green Infrastructure. "The Local Planning Authority will aim to protect, enhance and deliver a comprehensive green infrastructure network comprising strategic green links between rural hinterlands, urban Colchester, river corridors and open spaces across the Borough…"
back to top
back to top